Assigned by your top management to write a fact sheet? Make use of this fact sheet template and write a fact sheet efficiently in short amount of time instead of hours. Fact sheet can be known as a presentation of data in an easily understandable format which emphasizes key points of a product or service concisely. When giving details and information to members of a group or meeting attendees, additional amount of information than you need to convince them is a totally waste of their time and risks losing their attention but a well written fact sheets lets you to explain your points briefly in concise manner to make a sense for readers. Fact sheets can be used in almost all walks of life and written for variety of different reasons. A fact sheet is one of the important business documents used in enhancing public relations and provide an overall view of the business establishment or company you are running or managing. Fact sheet can be used to describe a product or service you are offering for your customers or even your entire business in concise method and well written format. You can download Fact Sheet Templates here. These Fact Sheet Templates are free to use and download for non-commercial purposes.
About Fact sheet templates:
Fact sheet is also known as an effective informational tool and used by many businesses and companies for publicity purposes because it provides answers of common questions raised by customer end. Writing a fact sheet is not a complex job to carry out even it is very simple and uniform to write because table, bullet points and headings are mostly used to make the perfect and easily understandable. If you are writing them for your own business or company, basic information like name of the business, logo, address, phone number, website contact details and email address must be mentioned on it so customer will able to reach you easily. Hopefully you will find Fact Sheet Templates useful.
Fact sheets are all about easy access to information about the business, product or company you want to publicize, so these must be written in a proper and easy to understand format. Basic purpose of fact sheets is to provide useful information about the business, company, product or service to the readers so don't skip any useful information when writing one. Fact sheet template is also added here on this page which is really useful for you when writing a fact sheet yourself. Simply download and edit the fact sheet template as needed and get a ready to print fact sheet within minutes.
Download Fact Sheet Templates: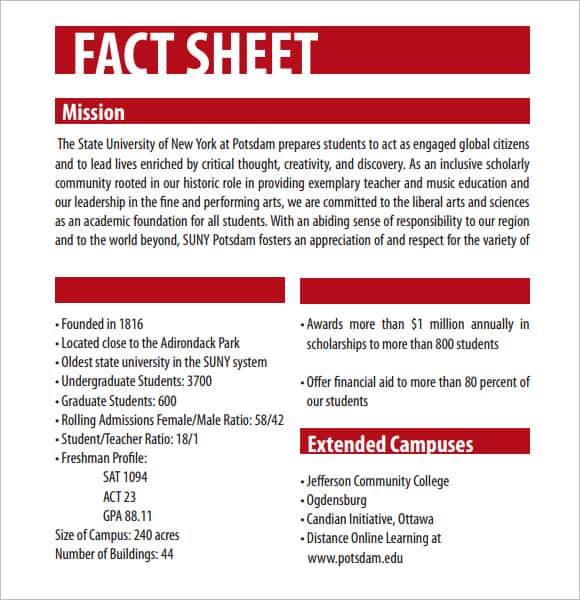 More Fact Sheet Samples